Winshots Technologies is an information technology (IT) consulting firm providing expertise in custom software solutions, high-end applications & web development, as well as design and integration of high-availability network infrastructure for mission-critical websites. With our proven experience and effective solutions, we ensure that our IT projects contribute significant value to many organizations.
At Winshots Technologies, our expertise spans a wide spectrum of enterprise desktop applications as well as internet technologies that enable us to deliver quick and cost-effective solutions to many companies. Every project we work on is given special attention throughout its development cycle to ensure maximum customer satisfaction.
We are truly committed to our clients to building solid, rewarding, and long-term business relationships that are focused on delivering results and value through IT. Our consultants have a combined experience of over 30 years in the Information Technology field. For more information e-mail us.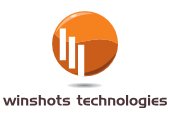 Copyright © 1998-2022, Winshots Technologies, Inc. All Rights Reserved.